Last Updated on November 28, 2021 by admin
Interested in dyeing your beard? There are many reasons why many prefer to dye their facial hair the major one being the need to cover the gray patches developing. Some people are not comfortable with signs of aging that often appear through graying of beard. However, to achieve the best result, you should use the right beard dye. There are different types of dyes available on the market but you may be interested in trying Wolfshead dye. As such, this Wolfshead beard dye review gives you insight into the qualities of the product and how it can help you achieve your goals.
Things to Consider Before Buying the Product
There are different things that you should consider before you buy Wolfshead Beard dye. The following are some of the factors that you should take into account so that you can get the best product that can satisfy your needs.
Product Type and Shade
It is important to select the right product with the desired shade or color that will satisfy your needs. When choosing a beard dye, you should select a product that will work best for you depending on factors such as style as well as the color of your hair.
It is recommended to choose beard dye with a color that resembles your hair on the head so that people cannot quickly notice it when you have just dyed your beard. If you are dyeing your beard to prevent graying, you should try to make the color of both beards and hair uniform.
The ideal customer for such products mainly includes men who want to improve their appearance or reverse the signs of aging. If you do not have beards, there is no reason why you can buy this particular product.
Ingredients Of the Product
Just like other beard grooming products, you need to consider the ingredients of the beard dye before you buy it. Some products consist of harsh chemicals like alcohol that can cause skin irritation and you should try to avoid these.
To get the best beard dye, it is important to get one with natural ingredients since these are ideal for different types of skin. When you decide to WolfsHead Beardye, you can immensely benefit from the natural ingredients. The product is designed for different types of skin and hair. On top of that, you should also consider if the dye is permanent or temporary before you buy it.
Price
Before you purchase the product, you must check its price to see if it suits your budget. You can compare the prices of different products available on the market against their quantity. This will help you to save money in the long run if you can buy a product that can last a long period.
You can also utilize product reviews to get the best product that can satisfy your needs. People who have used the product are likely to provide objective reviews that can help you make informed decisions.
Wolfshead Beard Dye Review
It is no secret that if you have tried other beard dyes that consist of artificial ingredients, you have certainly encountered challenges like skin irritation, redness as well as open sores among others. However, by choosing WolfsHead Beardye, you eliminate such challenges since the product boasts of all-natural ingredients. The product does not contain any harsh chemicals and it is designed to suit different types of skin.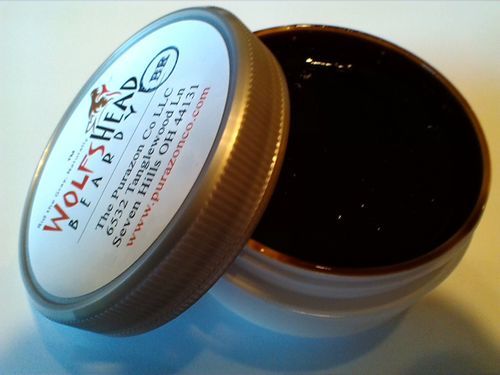 WolfsHead Beardye is a henna-based natural product that is also hypoallergenic and it does contain irritating chemicals. This is a natural beard dye which implies that it does not have to be mixed. It comes ready for application on your facial hair and it consists of six different colors that help you widen your choice. The product also comes with complete instructions which make it easy to apply.
Pros
Natural Ingredients
Easy to use
Ideal for all skin types
Cons
The product is still new and not known by many people
Benefits of Using the Product
There are many advantages that you can get from using the WolfsHead Beardye and the major one being natural ingredients. This product does not contain any chemicals and other artificial ingredients such as colorants that can cause skin irritation.
The other thing is that the dye comes ready in six natural colors and you do not need to mix it with base colors. The product is easy to apply since it is ready-made and you can apply it directly on your facial hair without mixing it with anything.
Alternatives
The following are some of the alternatives that you can consider in place of Wolfshead Beard Dye.
This beard dye is 100 % organic & natural brown. The solution is hypoallergenic and safe for use to overcome aging. The product consists of the highest quality and fresh ingredients and it does not contain any harsh chemicals. The dye is permanent and it does not easily wash away from activities like showering or swimming. The dye will always look natural and it suits different levels of beard coarseness.
This product produces a permanent coloration of your facial hair that can last weeks. The dye is light and it is also water-resistant. The product comes with a complete line of accessories and it is perfect for dyeing your beard as well as sideburns.
This product is ideal for both stubble and a long beard. Though it is not a dye, it works perfectly well to color your beard and mustache. The product gives you a natural look and it applies in seconds. It also has no harsh chemicals and odor.
Conclusion
Many people prefer the option of dyeing their facial hair as a way of concealing the development of graying which could be a result of aging. Some people may just dye their beards to improve their appearance. All the same, to get the desired results, it is essential to use the best product.
As reflected in the Wolfshead beard dye review above, the product consists of natural ingredients and it has no irritating chemicals. The dye is ideal for different types of skin and it is designed to give you the best results.  Now you know the full details about the product as well as the benefits that you can get from trying the product.